ESSO Certification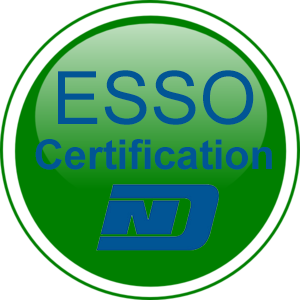 ESSO Certification is a proprietary product from NewDawn Security , the leaders in School Security Consulting services. ESSO stands for "Excellence In Safe School Operations"  and is fast becoming the benchmark in school safety standards.
NewDawn Security created the ESSO Certification to  go beyond the guidelines created by the  National School Safety Center developed by the U.S. Department of Education and the Department of Justice.
With  additional research into school safety procedures ,  interviews with law enforcement personnel , and  analyzing executive protection tactics we added 11 additional standards that must  be met to be ESSO certified,for a total of 26 Safe School standards! 
The ESSO certification process is different than any other known certification process as it is individualized to fit the needs of the participant. Once the initial visit analysis is complete, school administration and a NewDawn Security Certification Specialist develop a 12-month "blueprint" that details the necessary action to meet the measurable object of each Safe School Standard.
The primary benefit of ESSO certification is the knowledge that the school is offering the safest environment possible for its students. In addition to this key benefit, certification provides other tangible benefits that positively affect the school's budget and work to support a positive image of the school in the community.
No matter what level of safety your school currently maintains, ESSO certification can offer clear and measurable standards to prove your commitment to the community around you. The detailed plan offered through ESSO raises the awareness of all staff in an organization and in a community to the important issue of safety in schools.
To get more information about how ESSO can work for you or to schedule an initial visit to start the ESSO process, contact us at info@newdawnsecurity.com or give us a call at 1-888-342-1997.
Identify and mitigate all risk factors
Measurable increase in levels of safety and security
Discipline incident reduction
Increase of positive school climate
Reduction of insurance liability rates
Increased peace of mind
Enhanced learning environment for your child
24/7 Parental Concern reporting and advice line
Support and Empowerment Services provided
Schedule a confidential Safe School Assessment
Receive results and proposal