School Security Audit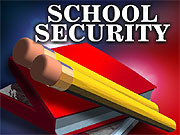 School Security Audits are a vital strategy in today's campus environments in order to ensure the safety and security of students and staff at public and private schools across the country.
As highly experienced School Security Consultants, NewDawn Security provides school administrators and personnel the extra resources needed to properly assess and determine what actions need to be taken to increase security and meet the expectation of the stakeholders,public safety officials and the local community.
The evaluation process of our school security audits is a critical component in providing school staff with site-specific safety recommendations and best practices to enhance school security.
During the school security auditing process we will examine many different areas that make up the schools campus environment such as bus and transportation issues,open areas,halls and stairwells,restrooms,cafeteria,high value rooms,visitor access,student and staff identification lighting issues,classrooms and instructional areas,media centers and libraries,science and technology laboratories,portable classrooms and many other areas as well.
During the school security audits NewDawn Security will also examine the procedures that are currently being implemented at each campus site to determine what security gaps exist and to fill those gaps with best practices and ensure they are being followed using follow up visits by NewDawn Staff and hands on training of school personnel and administrators.
Many of the procedures such as , school incident reporting systems and mapping, school climate, risk reduction programs, key control procedures,student and staff identification,emergency preparedness planning, cpted (crime prevention through environmental design and many others are vital to the human factor of School security.
Here at NewDawn Security we look beyond the basic school security approaches that are the focus of most school security audits. We have found that in many schools districts where limited school security audits have been conducted there were simple and easy to implement procedures that could have been adopted that would have prevented many of the tragedies we see in today's headlines .
Too often opportunities to prevent school security breaches have been overlooked due to an over-emphasis on security hardware and technologies without addressing the behaviors of students and staff which play a role that is just as important , if not more important than technology infrastructure.
Identify and mitigate all risk factors
Measurable increase in levels of safety and security
Discipline incident reduction
Increase of positive school climate
Reduction of insurance liability rates
Increased peace of mind
Enhanced learning environment for your child
24/7 Parental Concern reporting and advice line
Support and Empowerment Services provided
Schedule a confidential Safe School Assessment
Receive results and proposal